sup everybody, we are proud to announce our 10th (technically our 12th) video game cover cd, entitled 'now youre playing with powar x: endgame'. we recorded this album with one thing in mind, you. we pumped up the plur and dropped the nsf's, and came correct with an album that will show you both a more sensitive side, but as well a more mature part of tss that you might not expect, so sayeth the press release:
Now Youre Playing With Powar X: Endgame is an album by fans, for fans. The love of the music, the fandom, and all great nintentions and putting it all on the line is the intent of this album in all respects. On this foray, we are proud to bring forth a full band album with tons of stregnth, stripping away all backing electronics present on other NYPWP releases and going for a 'one mind, one sound' aesthetic that video game music deserves, just as you would hear it if it were performed live. This album shows a balance of both a more sensitive side as well as a visceral nature that encapsulates Temp Sound Solutions as it is, was, and forever will be. You can't lose if you dont play, and this is Endgame.

so there you go. we're very happy with this album and hope you will be too. this is a full band album and we all put a lot of ourselves into this over a very weird period of time, hopefully you guys dig it!
tracklisting:
01 -
ecco jr
02 - airman
03 - iron sword
04 -
commando man
05 -
garfield
06 - bio force ape
07 - gauntlet
08 - shadow land
09 - tmnt
10 -
werewolf the last warriors
11 - yamamura misa suspense - kyouto zaiteku satsujin jiken
12 - golf fax
if you want to hit up the
bandcamp
theres another song there you can hear. if you're interested in getting a cd and arent into the whole digital download thing, hit up
the webpage
. we will also have a new un squadron themed t-shirt for the release of this album available at magfest as well as a few nice surprises if you're planning on coming. the shirt is this design: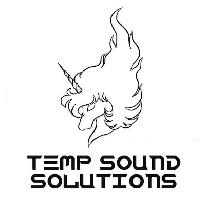 i want to thank everybody for all their help and support over the years, especially dudes like zach and jvincion, the artists who help us with album art, all the guys who run netlabels, and all the radio stations who have given us a little extra along the way and made this work for us. it really means a lot. if anybody knows anybody at any news outlets or anything like that who might be able to help us promote this like we had with nypwp 9 1/2, please let em know! enjoy, this is endgame.