Eventually I plan on writing some sort of article on the matter. I don't think there are any detailed publications on the subject, but I believe that early computer and video game music will eventually be examined in a legitimate, historical context if the right information is out there.
In the context of electronic music, it'll always be some sort of underdog, but it'd be impossible to trace the roots of electronic music and leave out the history of vgm and early computer music. You can only focus on Moog synthesizers and Wendy Carlos for so long, you know?

There's very little information on the subject of 'how it was made', and I feel like there's lots of speculation and misconceptions, so I'll do my best to make that my contribution to the internets.
I'll be editing this post with more findings, here's the foundations of what I have so far-
We have detailed information from-
1 - Neil Baldwin
2 - Alberto Gonzalez
3 - David Wise
4 - Tommy Tallarico
1. Neil Baldwin
-
link
Composer of Magician, James Bond Jr, Lethal Weapon 3, Ferrari Grand Prix Challenge, The Jungle Book, Dropzone, and Hero Quest + Erik the Viking (both unreleased).
In short - He wrote most everything out in text files that were subsequently compiled with Eurocom's own 6502 assembler. A Yamaha keyboard and graph paper were some of the physical tools that assisted in the composition and transcription process, although the keyboard was in no way actually interfaced with the system.
Detailed explanation-
NB: There were no tools to speak of so everything was entered as numbers in the assembler/editor. Later on I turned the numbers for command codes into macros to make entering and reading the sequences of notes a little easier but that's as sophisticated as it got. I worked out tunes on a little Yamaha keyboard and typed in the pitches and durations. Often I'd work out timings on some squared graph paper, mostly by trial and error.

- - -

Dennis: 'My big question is what kind of software you eventually fell into using, and if it resembled a tracker of any sort?

NB: All of my music was entered in text files and compiled with our own in-house 6502 assembler. I'd messed around with tracker-style programs on the Amiga but it's not a format that I ever really got on with. I did write some simple MIDI-to-text utility later on but it's use was very limited so 90% of the time I just typed everything in.
Further anecdotes on working with the NES-
NB: We had no development hardware just half-a-dozen Famicom consoles and a badly photocopied hardware specification that was 99% written in Japanese! What we lacked in resources, we clearly made up for in boundless determination.

Luckily for us, our parent company (at the time) employed the skills of a really talented electronics engineer, Richard Alton, who managed to reverse engineer (and build) some flash-ROM cartridges and together with an old 6502 editor/assembler, "PDS", we had ourselves a rudimentary development kit!

I remember myself and Tim Rogers (now Technical Director at Eurocom) visiting the languages department at Sheffield University with the photocopied Japanese NES manual and with the help of two Japanese girls we deciphered a lot of the technical information. They're uncredited in the history of Eurocom but looking back, I'm not quite sure how we'd have progressed without their help!
2. Alberto Gonzalez
-
link
Composer of Asterix and The Smurfs.
In short - He wrote his own tracker for the ZX Spectrum, titled Compact Editor, and sequenced out the basics of the music (notes, lengths) on there. Then after it was converted to source code most of the percussion, instrument details, and other nuances were all done in a plain text file. Data was transferred across platforms using a piece of hardware known as the P.D.S.
Detailed explanation-
B: Wait, so you even wrote NES music, for example, on the ZX Spectrum! Tell us a little bit more about your program Compact Editor, and how it basically functioned. Was it capable of tracking / composing a complete song from start to finish for the rest of your non-ZX 8-bit soundtracks?

AG: Compact Editor was a simple music sequencer, based on tracks, blocks, and instrument definitions, inspired by some Amiga computer trackers like NoiseTracker. A complementary PC program named "The Sourcer" was used to transform the binary data created with Compact Editor into raw source code, as a text language that I could understand (basic notes, lengths, etc). This way I could then edit the songs into its fullest detail.

- - -

AG: My entire process of making music for 8 bit consoles can be elaborated as such- First I used the Compact Editor to compose the basic idea of the song, with its different parts. Later the song was transformed into source code using The Sourcer, and then as a plain text file I put the small details and riffs into the song, as well the drum track and the final sound for each instrument. This process was done by changing the source code, compiling, sending it to the console, listening, and so on again and again until it sounded as I intended (or I ran out of time!). Finally, if required (most of the time), the compression stage took place, which consisted of finding and reusing small fragments of the song to make it use the least amount of memory possible.

Many times I adapted the sound driver for each game, adding new commands and effects, drum sounds or whatever. It was an evolving thing. I don't know how the other musicians did their soundtracks, I'm still wondering, but don't think it would be much different.
Further anecdotes on working with the NES-
AG: ... The NES had something special. The triangle wave channel was a good source for percussive sounds and boomy basses, although it wasn't very usable for other kind of sounds. I really enjoyed doing the music of Asterix & The Smurfs. Solstice by Tim Follin was my inspiration at that time. I had to learn 6502 and I liked it much more than I would have imagined.

AG: ... When I was writing Asterix for the NES and learning the sound chip, I didn't find information about the right frequency values to use for the notes (the frequency table), and the values of my Game Boy driver didn't work. So what I did was create a small program for the Game Boy to play each note (12*8 notes if I remember correctly), and another program in the NES to lower and raise the sound frequency with the controller. Then I played each note in the Game Boy and tried to mach its frequency on the NES "by ear", to find the right value for the registers. How brute is that? Well it worked, but now when I listen to my NES soundtracks I notice that some notes are a bit out of tune.
3. David Wise
-
link
Composer / Sound Design for Battletoads, Wizards and Warriors, Marble Madness, Ironsword, Taboo: The Sixth Sense, Pin-bot and
many others
.
The explanation is a bit short to summarize, so I'll skip the 'in short' here and go straight to the quote-
OCR: What was the first week on the job like?

DW: Good - interesting. Video games were still in their infancy, and learning that the sound chip on the NES - the Nintendo Entertainment System - was somewhat compromised, compared to a Roland D-50, certainly made things challenging. But I like a challenge!

OCR: What was the most difficult thing to learn?

There was no MIDI, instead, notes were entered data style into a PC. I typed in hex numbers for pitch and length and a few commands for looping subroutines. And this method of writing video game music continued right through to the end of the SNES development.
4. Tommy Tallarico
-
link 1
,
link 2
Composer for Color a Dinosaur (NES), as well as
many more
post-NES soundtracks.
In short - Working with a limited sound driver, and approaching the NES from more of a musical background than a programming one, Tallarico used a midi (.mid) -> ascii (.asc) converter. The converter was programmed by Virgin vice president Dr. Stephen Clarke-Wilson. Music was initially sequenced with Cakewalk. The sounds were edited and finalized using a custom NES cart- a gutted copy of what was formerly a test version of Golf Power, replaced with "Tommy T's Play Me Sound Editor"-
(note that the video is about the discovery of the item, which is why the speaker didn't know much about it at the time)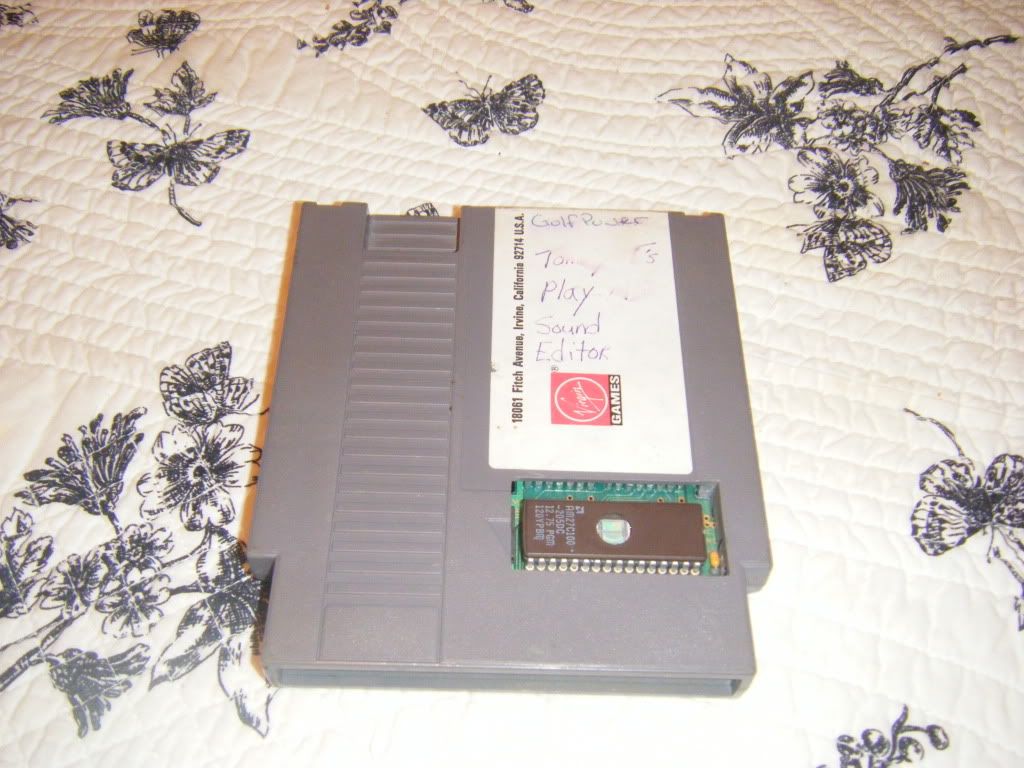 Detailed explanation-
TT: I had never done music and sound fx for an NES game before...

The sound driver for the NES was horrid!! Before the G.E.M.S. tool for the Sega Genesis you pretty much had to be a computer programmer in order to do sound for video games, especially the NES. [Dr. Stephen Clarke-Wilson] who was not only a talented musician and programmer in his own right created a small conversion program in Cakewalk which enabled midi files (.mid) to be converted to ascii (.asc) files. With .asc files I could get the NES to sound like something as long as I stayed within the proper note ranges. As far as sound fx went I could tweak a bunch of numbers and make some interesting albeit annoying sounds...

I created the simplest midi files I could in the time I had and ran them through the midi to ascii converter...

There were all sorts of tweaking tricks one could do to get it to sound "not horrible". Composer/programmers could write their own tools and incorporate things like vibrato and pitch bend. I mean lets face it the most memorable and popular songs in the entire history of the video game industry were created and performed on the NES! Of course I'm talking about the music from Mario Bros. Well, when it came to the NES I was no Kojii Kondo!! Especially considering I had a beat up piece of crap audio driver and a day to learn it and compose for it.
Further anecdotes on the NES sound editor-
TT: I saw the pics of the carts in a forum. Yeah... those were my carts from almost 20 years ago. And the "Tommy T." label is my handwriting. The "Golf Power" was an old cartridge casing that I erased over... I was a game tester for Golf Power so when the game was completed I used the cart to put an NES sound engine on it for when I was working on Color A Dinosaur!
Edited by bucky, 13 March 2012 - 07:23 PM.