Games Shizzies Play #4
March 2012

This Month's Game: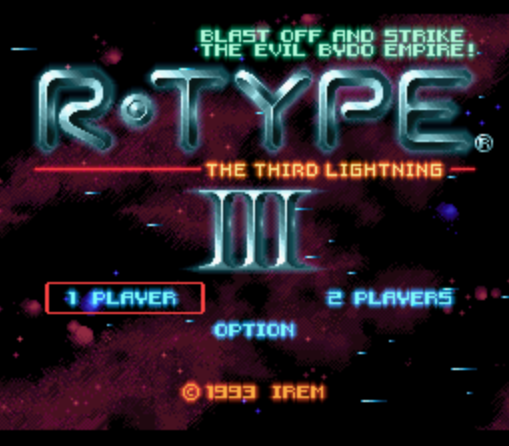 Irem - Super Famicom/Super Nintendo, 1993

Synopsis: There's a new Bydo armada in town, and a ghastly cliché in this first sentence. With two new weapon sets to choose from, negotiate six claustrophobic stages brimming with cosmic horrors, biomechanical monstrosities and devious traps, in the R-Type series' first-ever console-exclusive outing.

WARNING: Uses state-of-the-art Blast 7 technology. May induce dramatic vomiting.

Why this game?
Merc suggested having an STG-themed month, but we weren't sure how many people had access to (or would be willing to start using) MAME, so we opted to play it safe with a console shmup. R-Type III is among the best - not only one of few console shooters to get things
right
, but one of the genuine highlights in an all-killer series.
Which version should I play?
There aren't many significant differences between the Western and Japanese releases, but the stage four boss, at least, has much more health in the Japanese one, so you might want to keep it Murkan. (Interestingly, there are also a couple of cosmetic changes, including the stage two boss' sperm projectiles being changed to eyeballs in the US ver.) It's available on the Virtual Console in all regions, but is due to be taken down on the 31st of March.
You may be aware there's a GameBoy Advance release of R-Type III kicking around, too. For the purposes of this wee event, and almost out of a sense of duty, I must ask you to avoid it. Nay, shun it. Spit upon it. One couldn't possibly have any fun with it. The GBA port is an absolute pig of a game, due in large part to its being coded from scratch without any access to the source material. Irem weren't very good about supporting the developers, if I remember correctly. I could rattle off a laundry list of this version's shortcomings, but chief among them is the utterly game-breaking new hitbox, which is
bigger
than the R-9Ø's sprite, most noticeably at the rear of the craft. The original hitbox is surprisingly slender, and there are sections that require you to take advantage of this, so the GBA port might not even be playable after a certain point. I wouldn't recommend giving it the time to find out, anywho. It's an unmitigated failure.
Gubbins and guff:
Feel free to use as many continues as you want. R-Type uses a checkpoint system, so you'll be learning to tackle the levels properly even if you credit-feed like a GameSpot reviewer. There's no pressure to produce impressive results, although obviously, aiming to use fewer continues as you gain confidence is good practice, and building up to single-credit and high-score runs is certainly encouraged – just don't worry about it if it's not happening. The important thing is the craic!
Be sure to try out the Hyper Wave Cannon (press R to switch between it and the normal Wave Cannon). Rather than firing a single huge blast, it unleashes rapid-fire bursts of energy for a good 5-10 seconds (for best results, switch from the shot/charge button to the auto button after starting it). However, it also causes the R-9Ø to overheat, so you'll have to wait through a short cool-down period before you can use it again. The first boss is an obvious target for the HWC, but with a bit of experimentation you'll find plenty of other auspicious spots in which to use it.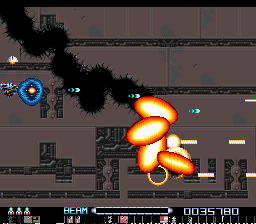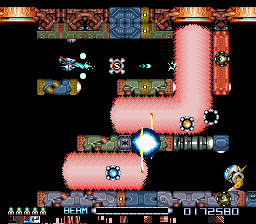 WEEK ONE GOAL: Clear stage 3.
Question of the week #1:
Which Force pod are you gravitating towards? How is it affecting your approach to the stages? Any good strategies emerging?
Question of the week #2:
How do you feel about the approach to level design so far, and the positioning of checkpoints, etc?
---------------------------------
WEEK TWO GOAL: Finish the game.
Question of the week #1:
How are you finding the learning curve? Is it the stages that present more sticking points, or the bosses? (Or is everything just a hateful clusterfuck?)
Question of the week #2:
Having cleared the game, what do you think of the level design overall, and the chances for recovery from death, etc?
Question of the week #3:
We're planning on having two games this month. Would you folks prefer to stick to console stuff, or are you up for playing some slightly more modern arcade fare? We will sort you out with whatever's required, of course. (Perhaps you're enthralled with R-Type III and want to just keep chipping away at it?)
EXTRA CREDIT : If anyone is having trouble with a particular section or boss, let it be known! Trading of tips and such (preferably under spoiler tags) should be exactly the kind of thing this should be generating as well.
Now, let's get playing!
(Sorry it's a bit late!)