a metal band that plays devastating riffs that tear through your eardrums and make you cry like a baby is called LACHRYMATOR.

sometime in the fall of 1998, aaron beam (of modern-day red fang,), grant mainland, and kip larson (of regraped, and current-day project Pandion) sat down for potables at club 21 in portland oregon. despite alliances to respective outfits "the kung fus" and "regraped", they made a decision to combine forces and devastate the metal scene together; lachrymator was born. a myriad lineup changes later and a steady regiment of faster, louder, and more aggressive repertoire, Lachrymator continues to obliterate the competition. derek oringer (of holgator and bozart fame) joined in early 2001 solidifying their lineup, and the crew is working on recording the follow up to the "dark blackness" album.

also, they are broke up now. im making dark blackness available as its too good to not pass on. as a personal aside, i believe dark blackness might have supposed to have been a 9 song album but yeah, you get what you get and you should be thankful. enjoy these five songs, and i know you will. riyl tha champs, bozart, slayer, skating, holgator, portland, polyharmonic leads, no bass, kip larson, pen rollings, mike banfield, good taste.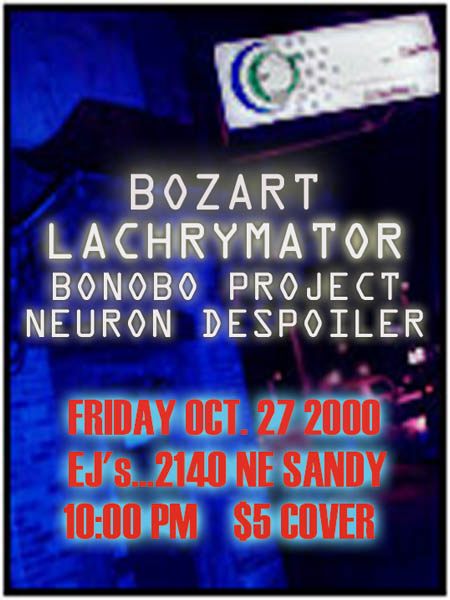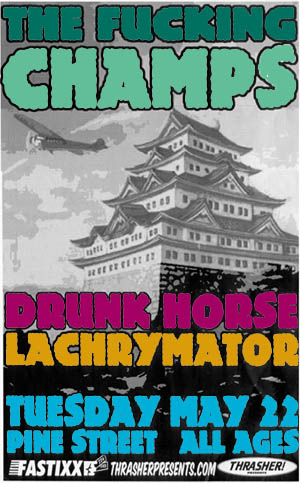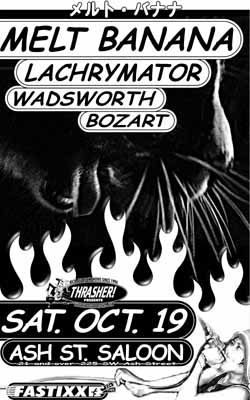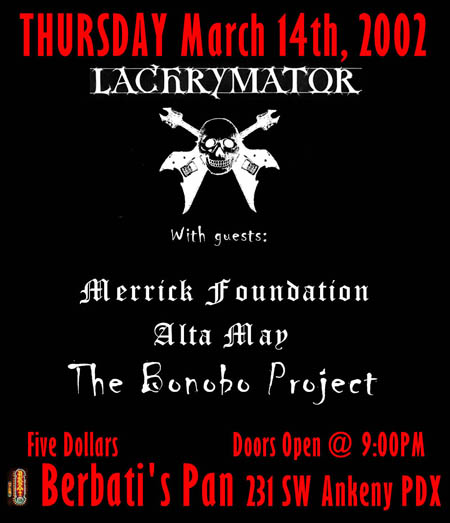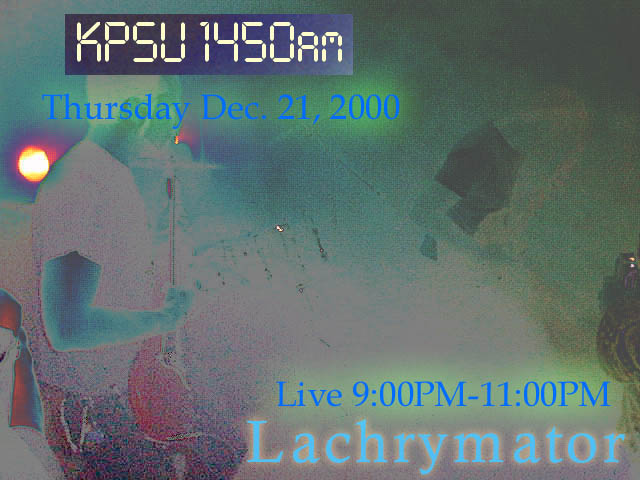 Aaron's stunning guitar prowess and unforgiving volume have been a mainstay of the Lachrymator experience since he helped to form the band in the summer of 1998. Prior to the horrendously bloody, motherless birth of Lachrymator, Aaron fronted the grandly masterful Portland power quartet The Kung Fu's. A short list of Aaron's long list of other musical endeavors includes Piano Lessons, Hoover Elementary School Concert Band, Boltz Junior High School Concert Band, Boltz Junior High School Jazz Band, Fort Collins High School Concert Band, Fort Collins High School Marching Band, Fort Collins High School Pep Band, Fort Collins High School Jazz Band, Crimson Sludge, The Bloated Roaches, Chipmunk Toaster, Seymor, Spoon, Spork, 5 Minute Butt Ruin, Maury's Gun Rack, Vitamin X, Starhustler, Roy D and the Hot Chrome Spurs, Mazurka, Shawn Bosler with Rollerball and Aaron Beam, a.m. gold, Witch Mountain, the Juanitas Family, Gang of Four Cover band the Dave Allen We Love You Band, Blondie and Elvis Costello Cover Band Blondie versus Elvis Costello, and Jesus Lizard Cover Band Monkey Trick.
Aliases
Stane Dethenstein
Stane Metalourde
Vital Stats
6'1", 200 lbs, impaired vision, flip-flops, black wristbands.
Together with Aaron I. Beam and Grant W.S. Mainland, Kip is a founding father of Lachrymator. Kip's abrasive guitar riffs have long been a trademark of the Lachrymator sound. Kip migrated back to guitar after his 7-year tour of duty with Raleigh, NC combo Regraped. Shortly after Regraped's move to (and subsequent breakup in) Portland, Oregon, Kip started to create, with Aaron I. Beam, the delicate architecture of the Lachrymator sound. In addition to Lachrymator, Kip is a member of Portland super-group Ociffer. Kip's music history is as follows: Emma Conn GT Magnet School Concert band, The Raleigh Boychoir, Ligon GT Middle school Concert Band, Ligon GT Middle School Jazz Band, Ligon GT Middle School's Ligon Symphony orchestra, The Hype, Eight Eyes, Sweet Baboo, W.G. Enloe High School Concert Band, W.G. Enloe High School Jazz Ensemble, Blue Nation, Cleveland Jones and the Cosmic Soul Searchers, The MFU, Hogleg, Witch Mountain, Kip Larson, and The Big Score.
Aliases
Pfist San Guino
Blud Lettingod
Vital Stats
5'10", 180 lbs, impaired vision, Addidas shell-toe.
Derek Dime Bag Oringer provides the punch, drive, and tree-splitting backbone that carry the lethal riffs of Lachrymator to deep within your skull. A seasoned pro with a long list of projects that include Holgator, and Bozart, Derek enlisted with Lachrymator in the summer of 2001.
Aliases
Dime Bag
Waiste Secksmith
Vital Stats
5'10", 200 lbs, impaired vision, chimp-pansies t's
Other Players
Aaron "Fratis" Fratis
Anthony "Big A" Hubik
Grant "Waiste Secksmith" Mainland
Edgar "Edgar" Edgar
Jeff "The Shredder" Schroeder
Zac "Randy Rontota" Love
for i think really the first time on the internet, you can now hear dark blackness:
[links removed due to lack of interest]