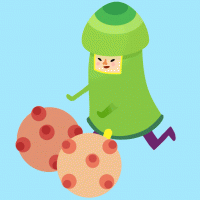 Posted 29 July 2019 - 02:37 PM
So stoked for this listening party
---
Posted 29 July 2019 - 05:28 PM
The Legend of Zelda: A Link to the Past, The Legend of Zelda: Breath of the Wild, The Legend of
Zelda: Ocarina of Time - Your Princess is in Another Castle
oh man I love that voice patch
The arrangement is so sick. So proggy and like...evil.
The mix seemed a bit crunchy, and....thin? (not in a bad way). But it's grown on me.
The spring/splat that goes with the snare was pretty distracting.
Amazing transition to the ending!
Seriously great arranging here!
The Legend of Zelda: A Link to the Past – DarkWorld-OverWorld
Some weird note chocies in the bass line, and guitar melody :/
The Legend of Zelda: Breath of the Wild - Molduga (Tremors & Battle)
Pretty good recording quality! I want the lead playing to be a bit more smooth on the melodies. The solos are better!
The Legend of Zelda: Breath of the Wild - Welcome to Our Humble Fishing Village
niiiiiice tones!!
The Legend of Zelda: Link's Awakening - Ballad of Wind Fish/Overworld
rofl the ol bait n switch with a quiet intro into a ROCK song!
Pretty ok for a punk song I guess
The Legend of Zelda, Legend of Zelda: Ocarina of Time - Great Kitty's Meowntain
eh...I guess I never really understood the humor in meowing things. Unless it's that one video where the cat meows in the drops between riffs in that metal song.
Rofl the pitch bends....ok that's some good comedy!
Still, this gets my lowest rating ever; three thumbs down.
Zelda II: The Adventure of Link - Zelda II
ugh YES all these real instruments!! Thank you!
Some better balancing could help. At points the accompaniment was sticking out, and the melody was buried.
Oh yessssssss, bowed bass + acoustic guitar on a bass line is SO HEAVY
Man, GREAT arranging, playing and recording.
Dynamics!
---
---
---
Reply to this topic
Also tagged with one or more of these keywords: dwelling of duels, dod
The Shizz.org

→

Minibosses Message Board

→


Started by

Katamari

,

31 Mar 2020

dwelling of duels

,

dod

,

free

The Shizz.org

→

Minibosses Message Board

→


Started by

Katamari

,

02 Mar 2020

dwelling of duels

The Shizz.org

→

Minibosses Message Board

→


Started by

Katamari

,

27 Feb 2020

dwelling of duels

,

dod

The Shizz.org

→

Minibosses Message Board

→


Started by

Katamari

,

01 Feb 2020

dwelling of duels

,

dod

The Shizz.org

→

Minibosses Message Board

→


Started by

Katamari

,

30 Jan 2020

dwelling of duels

,

dod
0 user(s) are reading this topic
0 members, 0 guests, 0 anonymous users